Hi, my name is Rosa and this is a compensated customer testimonial for Saha Self-care.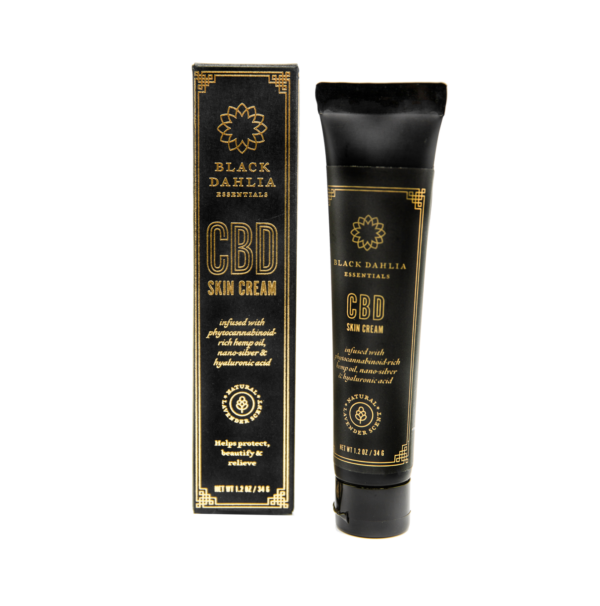 Both are really nice, impressive products but for different reasons. The Black Dahlia's design and packaging is way better than Saha's. The black and gold looks really majestic and has a really premium, luxurious look to it. When comparing side-by-side, Black Dahlia definitely looks like a superior product.
That being said, the Saha branding is totally fine – it looks nice and premium – but it's just not at the level of Black Dahlia.
In terms of the actual cream/lotion – they're quite similar and I would give them a tie on quality, feel, etc. Both are free of BPA, parabens, harsh preservatives, synthetic colors, phthalates or harmful sulfates and conduct no animal testing so that's great of both brands.
The one area where there is a CLEAR difference is the price and value. Black Dahlia's CBD Skin Cream is 1.2 ounces with 100mg of CBD for $45.00. Saha's CBD Body Lotion is 4 ounces with 500mg of CBD for $39.99. I reached out to Saha to find out why their pricing is so competitive and the explanation was that first, a lot of brands are charging a lot for CBD products because they can so there's a lot of price inflation out there for no other reason than profit.
Second, Saha is a very small operation with most of the processes in-house so they are able to charge less because it costs them less. They essentially pass their cost savings onto the customer rather than keeping them.
Although both are great products, if I were going to be using one moving forward, it would be the Saha CBD Body Lotion. Great product at a great price and I appreciate the philosophy and mission of the company and its founders.
One cool thing about Black Dahlia is their CBD candles! I'm not sure CBD in candles actually does anything for you but they sound cool and definitely look really nice. It would be cool if Saha came out with a similar product in the future (provided there's actually some benefit to users by doing so).