Cannabidiol products have gained a lot of popularity for their healing properties as of late, and it's easy to see why once you've used one for a while. CBD body butters are particularly great antioxidant body lotions with the ability to relax the body and moisturize the skin.
If you're new to CBD skincare products and looking to buy your first CBD body butter, you may feel lost in your search for the right product. Read on to find our top picks for the top five best CBD body butters online.
At a Glance:
The Top Five Best CBD Body Butters Online in 2021
Saha Self Care has combined a spectrum of ingredients to create a best-selling hemp body butter that combines the best of all worlds, from combating damaged pores to relaxing the muscles.
When you look at a Saha Body Butter label, you'll see a formula of exotic elements such as moringa, cetyl alcohol, and arrowroot powder, combined with oils like almond and coconut oil and laced with broad-spectrum cannabinoids to create an all-around excellent body lotion.
Pros:
An excellent multi-purpose product

Attractive coconut oil and vanilla fragrance

Reasonable price point
Cons:
Not as specialized as other products (as expected from a multi-purpose product)
Bottom Line
If your needs are varied but don't want to buy an array of body butters, then Saha's CBD Body Butter is your best option.
Josie Maran's Skin Dope CBD body butter is a very smooth butter made of pure argan oil, cocoa butter, fruit oil, and cannabis Sativa, which makes it excellent for treating skin swelling and redness. It's an excellent barrier cream, too!
The downside here is that the 100mg jar may be small for some users. Even though you don't need much quantity when spreading, you might find yourself rebuying it more often than the rest of the products on the list. 
Pros:
Helps relieve inflammations and rashes

Contains argan oil that helps with skin protection

Very smooth on painful areas
Cons:
Jar may be too small for some users
Bottom Line
Josie Maran's Skin Dope CBD Body Butter is ideal for those with inflamed skin or eczema.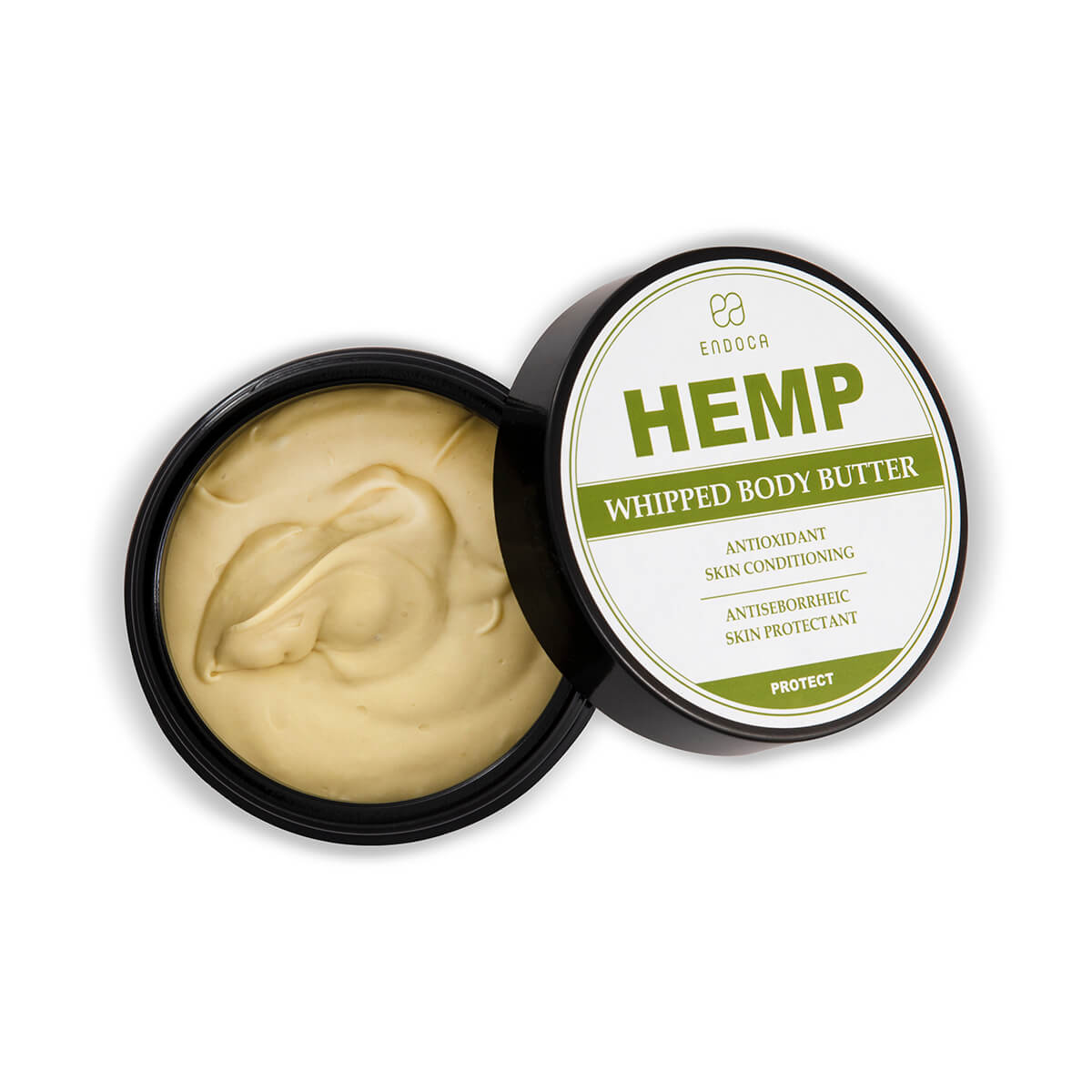 While the Endoca Infused Cream is excellent for moisturizing, it's even better for repairing damaged skin and enhancing protection. It combines vegan-grade ingredients and essential oils like shea butter, cocoa seed butter, palm oil, and coconut oil with full-spectrum hemp seed oil for complete nourishment.
The Endoca Cream's main drawback is its price, which is somewhat higher than average for a body butter.
Pros:
Rich in vitamins and antioxidants with many benefits

Helps repair and protect the skin against pollutants

Highly moisturizing

Wonderful scent
Cons:
Somewhat pricey

Susceptible to sunlight
Bottom Line
The Endoca Infused Cream is the way to go if you're looking to repair damaged, dry, or wrinkled skin and protect it.
Prima Skin Therapy's Body Butter is high in moisture, making it an excellent pick to combat dry skin and acne. It's mainly made of shea butter, olive oil, jojoba seed oil, phenoxyethanol, and broad-spectrum CBD.
Shea butter (butyrospermum parkii) contains several vitamins, antioxidants, and omega-3 fatty acids that hydrate the skin while the other two ingredients, jojoba and hemp oil, help replenish and protect the skin. 
Unfortunately, their blend of citrus, clove, geranium, and ylang-ylang creates a smell that could be too pungent for some users.
Pros:
Good for skin hydration and moisture

Also helps repair and protect your skin
Cons:
Its scent may be too strong for some users
Bottom Line
The moisturizing properties of the Prima Skin Therapy Body Butter make it your go-to product if your skin is often dry or wrinkled. It also helps with protection, making it a fantastic pick.
The Serious Relief + Arnica Targeted Tropical body butter is my recommendation if you often face joint and muscle ache. It's also the preferred product of many athletes.
The Arnica Targeted Tropical butter contains several essential oils alongside beeswax, jasmine, and broad-spectrum CBD, which are all great for bruises and blemishes. As a bonus, it can help with dry skin and wrinkles.
CBD topicals like the Arnica Targeted Topical can also be diffused for aromatherapy, which has many benefits for the nose and sinus.
Pros:
Great for massage and arthritis

Can also help dryness

Helps with soreness after a workout
Cons:
There are better options for moisturizing, so only pick this one if you'll use it mainly for massage
Bottom Line
The Serious Relief + Arnica Targeted Topical body butter can help with different kinds of body pain, so I recommend using it if you often have problems with joints or play sports frequently.
Frequently Asked Questions
What Form of CBD Is Most Effective for the Skin?
Broad-spectrum CBD is more effective than its cannabidiol isolate because broad-spectrum CBD contains many beneficial compounds from the hemp plant that work together in harmony to benefit your skin and don't contain THC.
How to Pick a CBD Body Butter?
Look for the company's production practices, specifically how they grow hemp and how they extract CBD. Look for hemp grown in pesticide-free American soil. Also, look for CBD extract that's made with supercritical CO2 rather than butane.
How Do CBD Creams Work?
A CBD cream or body butter applied on the skin works similarly to a CBD product taken internally – by binding with the cannabinoid receptors in your nervous system. This interaction helps with muscle relaxation and reduces stress on the skin.
CBD Body Butter: Your New Skincare Go-To?
Hopefully, you now have a good idea about the benefits of hemp-derived CBD, and of the top five best CBD body butters online and can go about your shopping with more information. 
If you're still lost, I recommend Saha Self Care's CBD body butter. It's full of nutrition that can help all skin types against most skin conditions that CBD products aim to cure.