The CBD industry is booming and one of the many reasons why is because it currently offers a higher level of legality than marijuana (although change is definitely in the air). Because CBD doesn't get you high even though it's a derivative of cannabis, it doesn't carry the same stigma that marijuana does.
As a result, you're likely seeing hemp-derived CBD products everywhere you turn; lip balms, face creams, coffees, even toothpaste! You name it, there's probably CBD products you can purchase now instead of the traditional, conventional versions.
In fact, you've likely heard stories from friends and family alike about the benefits of CBD products helping them with all types of ailments from better, deeper sleep to less stress on a daily basis.
However, there is one new CBD product that you might not have realized has entered the market, and that is CBD lube.
You're not misreading that, people really are using CBD for everything these days, including sex! Be that to spice things up a bit or for more serious reasons like painful sex, to decrease pain associated with sex (i.e. vaginal tearing) or helping improve vaginal elasticity in a natural, safe way. Whatever the reason, CBD is the ultimate friend with benefits.
If you had questions before beginning this article, we know you'll definitely have questions now. Worry not, you're in the right place. Read on to learn more about how CBD, lubricants and your sex drive can all come together for the best CBD sex of your life!
What Can CBD Lube Be Used For?
Cannabidiol or CBD is a non-psychoactive element found in cannabis plants, along with many other cannabinoids. FYI, CBD can come from either hemp or marijuana but is much more typically derived from hemp.
In order for CBD to be legal in the US currently, it has to be hemp-derived (not cannabis-derived) and have less than 0.3% THC. CBD does not get a person high. The ingredient found in marijuana that gets you high is tetrahydrocannabinol, or THC. CBD oil or lube that is available commercially has very little, if any, THC in it. In fact, it's made with broad spectrum CBD or CBD isolate, there should be virtually no THC in it. If the CBD is full spectrum however, it will contain trace amounts of THC up to 0.3%.
For those who might be experiencing issues in the bedroom, CBD lube might be able to help. In particular, CBD lube can be used instead of other types of lubricant.
As with anything that you are going to use on your body and in particular in a sensitive area such as a sexual organ, it is important to make sure that you discuss the use with your doctor first as the CBD could interfere with prescription medications that you might be taking.
If CB has been cleared as safe to use by your doctor, benefits of CBD lube may include: helping to increase blood flow, improve muscle relaxation, and decrease inflammation. Women might experience better orgasms and a heightened sensation when applying CBD lube (so better sex, basically!).
Even people who have issues with regular lube use might be able to use CBD lube with better sexual results.
How CBD Lube can Help?
The American College of Gynecologists states that nearly 75 percent of women experience pain during sexual intercourse at some point in their life. The main type of issue is penetration pain. Trying CBD lubes makes sense because it has anti-inflammatory properties and can help to prevent irritation. It's important to note that it must be made using a natural base such as coconut oil.
Most people have heard of CBD because of its ability to help decrease inflammation and alleviate pain, so it makes sense that using it for sex could help with any pain that a woman or man might experience.
In addition, there are many other benefits of CBD as well. CBD is what is called a smart molecule. This means that it works dynamically to help both the mind and body, based on the situation and the location of each issue. Additionally, CBD particles helps promote entire body homeostasis. Essentially, CBD may help support bringing a sense of balance to the body.
A study conducted in 2009 found that CBD offers nearly 50 mechanisms that are active. While an analgesic will only target pain, CBD tackles many problems all at the same time. This is one reason that CBD when used as a lubricant is superior to most other types of lubricants that are on the market.
The majority of lubes that are sold simply have one function and that is to keep things wet. CBD lube not only keeps it wet where you want it, but it also moisturizes and regenerates delicate skin, relieves pain and inflammation, and can reduce anxiety.
To put it simply, people who use CBD lube can not only benefit from potentially reduced pain, but the lube also helps them to relax, improve blood flow and enjoy their sexual interactions even more.
Unsurprisingly, CBD can also help women and men both experience better orgasms, not because it contains a magical ingredient but simply because it helps you feel better and relax so you can fully enjoy the moment.
Using CBD Lube
When choosing a CBD lube it's important to find one that has a gel-like texture. Additionally, the CBD lube should not contain any chemicals that could be irritating. The gel like texture is more viscous than a traditional lube, which is often too runny.
One of the most common problems found with many of the CBD lubes that are currently available is that they simply do not last long enough. Reapplying the lube during intercourse can really kill the mood, which is why it is important to find a CBD lube that is going to last long enough for you to be satisfied.
To use CBD lube you should read the directions that are provided. Most will recommend that you rub the lube in and around your clitoris. You should pay special attention to the outer and inner labia.
Many women who use CBD lube will recommend that you work the lube into the inside of the vagina as this can provide a heightened sexual experience.
Once again, make sure that you are aware of lubes that dry up quickly as this can result in a chafing experience that can become very uncomfortable. Generally speaking, you should not experience any type of pain associated with penetration when you are using this type of lube.
One issue that you might run into is the time that it takes to notice the effects of CBD lube. Even with some of the more powerful products, it can take up to twenty minutes for the effects to take place.
Indulging in foreplay until you experience a more localized sensation is recommended. CBD lube is not intoxicating, so you will likely experience a very pleasant feeling, but it is not going to get you high.
Can Any CBD Oil be Used as Lube?
When choosing a CBD lube, it's important to look over the ingredients first. Avoid any oils that have artificial scents or ones that use other chemicals. Oil based lubes can degrade latex in condoms, which will make them not as effective, so if you are using a condom make sure to use a lube that is water based.
You should not just purchase any CBD oil that you come across to use as lube. Remember, you are using this on your nether regions, which are very sensitive areas. You want to make sure that you are buying your products from a reputable seller and brand.
It is also important to make sure that the CBD lube that you choose is right for your body. Some ingredients found in these lubes might be more harmful than helpful. Almost any ingredient that ends with an -ol, will likely be drying and can cause irritation with time. There are also some glycerine and sugars that can increase the risk of infections.
Common Questions About CBD Lube
CBD Lube and Condoms
Most CBD lubes are oil based, which means that they are not friendly towards latex. This means that you run the risk of a condom breaking during intercourse, which is exactly what you do not want. There are some products that are labeled as being latex friendly, but as with anything there is no real guarantee, so it is better to be safe than sorry. Try other barrier materials such as polyurethane instead of latex.
Extra Moisture
The point of using lube is to provide some extra moisture downstairs and high quality CBD lubes can do just that. These lubes will make you even wetter than normal, which is a bonus when it comes to having good sex.
Scents
Most types of CBD lube will not have a smell. However, there are some brands that will add a scent to the lube. Your personal preference when it comes to scent will play a role in the type and brand of CBD lube that you choose.
However, if you are choosing a scented version of lube, make sure that it is a natural scent and ingredient and not chemicals that are providing the smell as many chemicals that are used for scents can cause irritation.
Relaxation
Do not apply CBD lube and then expect to have the greatest sex ever. One of the main benefits of this type of lube is to help alleviate painful penetration. Additionally, it helps you relax. However, this will only happen if you allow yourself to become relaxed. After applying the lube, try to calm yourself down and allow yourself to enjoy what comes next. Remember, it does take a bit for the CBD oil to begin working.
Are These Products Only for Women?
Most lubes on the market are aimed at women, but this does not mean that they are exclusive for women. Anyone that engages in sexual activity can benefit from using lubes that contain CBD.
Research
It is important to make sure that you take your time and research CBD lube before using it. Since the CBD market is not regulated or standardized in any way, there is a chance that you will buy a product that is of low quality and full of chemicals that can be harmful.
Taking your time to look over the ingredient list and read reviews about the product can literally save you from immense pain and possible issues that can come from using a low-grade form of CBD lube.
Which Are The Best CBD Lubes?
This is a great question: which is the best CBD lube out there for me? Unfortunately, lube is such a personal choice with so many factors to consider that that we don't feel we can make a recommendation on which is the best CBD lube out there.
We can, and have however, compiled a list of CBD lubricants that we consider best in class and definitely great options to help improve your sex life regardless of your reason for using.
CBD Lubricants to Consider
In the United States, CBD lube has been on the market for a while and there is a large variety of these products available. With that being said, it can be overwhelming when you are trying to choose one to try. Here is a list of some of the top CBD lube products to consider.
Want to use coconut oil for lube? This is the CBD lube for you then. Saha's CBD Lube is a coconut oil based lube, so do not use it with condoms. This lubricant is made from entirely natural ingredients and is unfragranced. The lube is edible and free of animal products, which makes it suitable for vegans. Saha contains 200mg of premium broad spectrum CBD and is tested in a lab for purity. This product contains 0.0% THC. Please note, this product falls into the bucket of oil-based lubricants and is not latex safe.
Canniant Pleasure
Canniant Pleasure is a great lubricant that comes in small 15 ml spray bottles. This wonderful lubricant has a fresh coconut smell and has no THC, but contains several other terpenes and phytocannabinoids. The product uses 100 percent hemp grown in the United States and is completely edible. The texture is quite wonderful and not sticky at all.
Bella Olio D'Amore Silicone-based or Water Based Lube with CBD Infusions
This silicone lubricant offered by Bella Olio D'Amore is available in bottles of 40 or 100 mg. For those who are looking for a lubricant that is not oil based, this is a great option. The water based lubricant is one of the few available on the market and the water based version from Bella is really the only one that is even worth using. This water based CBD lube offers a natural feel and is not scented. Safe to use with sex toys.
Infinite Big Bang
Infinite Big Bang can be used as both a massage oil and a lube. This is a wonderful choice as it offers 150 mg in each 170 ml bottle. The lubricant is made with all natural ingredients and boasts a wonderful vanilla scent. You will love the way that this lube feels on your skin. Safe to use with sex toys.
Foria Natural Lubricant with CBD
Foria is a great natural lubricant option. Made with organic MCT coconut oil and 200mg of broad spectrum CBD, Foria is free of alcohol, petroleum-based ingredients, phthalates, glycerin, parabens and dyes. Being broad spectrum, this CBD product has no THC. Foria also has other intimacy products such as their Arousal oils and suppositories. Foria is definitely a pioneer in the CBD/cannabis meets sexual pleasure and benefits space! Please note, this Foria product is not latex safe so it is not safe to use with condoms but is safe to use with sex toys.
Natural Non-CBD Lubricants to Consider
Aloe Cadabra
Aloe Cadabra® is a premium personal lube that's all natural, containing over 95% organic aloe vera in every tube and FDA-cleared for your safety.
Gentle and soothing for your skin, it's also safe to use with condoms and dental dams, so it's an excellent choice if you're trying to prevent pregnancy or protect against sexually transmitted infections (STIs).
Sliquid Organics Natural Lubricating Gel
This Natural Lubricating Gel is made with only five simple ingredients,  is organic, vegan, and hypoallergenic. How's that for value?!
Additionally, it has no taste or smell so you don't have to worry about unpalatability or irritants like fragrances.
You can also shop for the water-based option which is safe to use with latex condoms.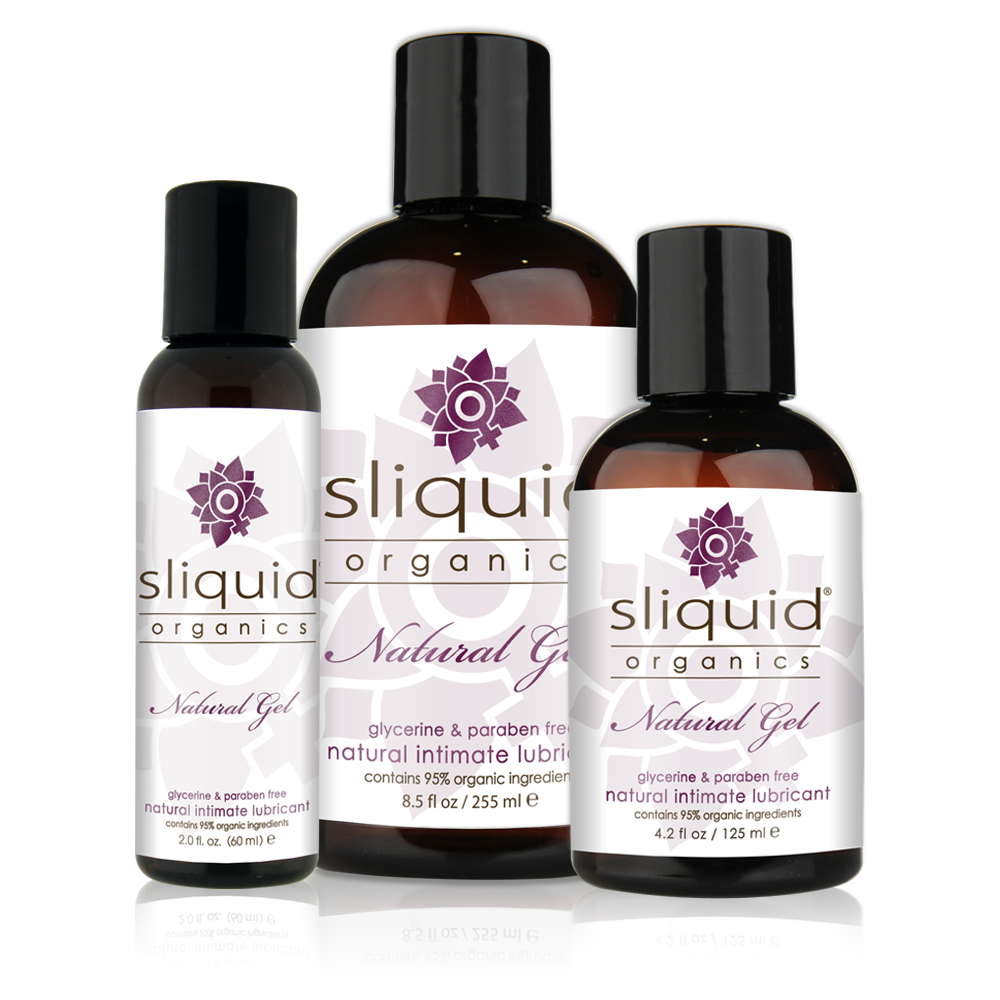 Good Clean Love Almost Naked
Another vegan option, Almost Naked is paraben-free, and doesn't contain any synthetic fragrances, or glycerin. It's also safe to use with latex condoms and toys as it's a water based CBD lubricant.
Please note, that it does have an "almost undetectable" fragrance from lemon and vanilla infusion, so if you want something that's completely unscented, you'll want to pass on this one.
AH! YES Organic Lubricants
AH! YES makes trusted personal lubricants, vaginal moisturizers and washes for intimate wellbeing and all their products are certified organic, using ingredients like aloe vera, sunflower seed oil, and vitamin E oil.
Do keep in mind that oil-based lubes (which these are) are not compatible with latex products (such as most condoms) so you'll want to opt for water-based if you use them.
SYLK Personal Lubricants
SYLK is designed to work with a woman's body and is super smooth and slippery without leaving any sticky residue. SYLK has been trusted and sold internationally for over 30 years and is cleared by the FDA, proving its long-standing record of safety and effectiveness.
SYLK's unique ingredient, the New Zealand kiwi vine extract AKA "Nature's Wonder Ingredient" is what gives SYLK it's ultra-slippery natural-feeling texture.
It's also a water-based lube, so it's compatible with latex condoms and toys.
Überlube Luxury Lube
If you're looking for the jet setter of lubricants, you should definitely check out Überlube! It's a luxury brand lube made from only four ingredients and the website is just as sexy as the product and packaging.
You'll pay more than the other options but if you have allergies or you're prone to irritation down there, this might be your best bet for avoiding an uncomfortable reaction.
And it's safe for use with condoms but not with silicone toys, FYI.
Conclusion
CBD is a growing industry and more and more products containing CBD are entering the market every single day. There are many people who have used CBD as an effective treatment for inflammation and other types of pain. The key to choosing a quality CBD lube to use as a way to spice up your sex life is to make sure that you find one that is made with all natural ingredients.
If you suffer from vaginal tearing or dryness or you experience discomfort during sex, CBD lube just might be the solution that you've been looking for to help enhance your love life.