What's the Best CBD Cream for Pain? Here Are Our Top 10 for 2021
Are you looking for an all-natural alternative to conventional pain medications? Consider CBD cream for pain. Pain relief is one of the major benefits of CBD (cannabidiol), and even professional athletes cite CBD topicals as effective reliefs for their painful muscles and joints.
So, considering the vast selection of CBD creams available on the market today, what is the best one for pain relief? This article explores the ten best CBD creams for pain that you can purchase in 2021.
Top 10 CBD Creams for Pain
1.     Saha Self-Care Relieving CBD Body Lotion
Saha Self-Care is committed to delivering premium quality hemp-derived health products that satisfy customers looking for natural ways to soothe daily life stresses. The Relieving CBD Body Lotion is one of their best-selling products.
Each four-ounce jar of the CBD lotion contains 500 mg of premium, broad-spectrum CBD, with zero THC. The all-natural, vegan, gluten-free product contains no additives or synthetic ingredients. Infused with organic comfrey root, white willow bark, and shea butter, this lotion boasts a subtle aromatic blend of Lavender and Neroli.
Besides helping to keep your skin soft, supple, and hydrated, Saha Self-Care Relieving CBD Body Lotion can also help with achy, sore muscles and joints.
2.     Charlotte's Web Topical Formulas
Charlotte's Web is another reputable company in the premium CBD market, offering a wide selection of topical CBD formulas and creams. Among its best products for pain relief are its CBD-infused cream and the CBD-infused balm.
If you're looking for CBD lotions or creams especially formulated for back and neck pain, Charlotte's Web also has you covered. It also has special formulas for arthritic pain and other kinds of chronic pain.
Each $15 container of Charlotte's Web CBD Balm gives you 150 mg of naturally occurring cannabinoids. The formula is also free of parabens, heavy metals, allergens, synthetic fragrances, and other harmful substances. Like all other Charlotte's Web topical products, this formula contains 300 mg of CBD per ounce.
3. Verma Farms CBD Topicals
Verma Farms holds a reputation for offering all-natural, organic CBD products, and its CBD topicals are among the best on the market. If you're looking for an effective CBD cream for pain, you can't go wrong with its 200 mg Mahalo Muscle Relief or 100 mg Tropical CBD Lotion.
Both products are great for relieving pain and soreness, but Mahalo Muscle Relief is ideal for athletes with pain, muscle spasms, and other injuries.
4. Joy Organics CBD Creams
Joy Organics is another trusted company in the premium CBD market. It offers a variety of premium CBD products, and all its products are broad-spectrum, which means they contain no THC. The company offers two types of CBD creams: a regular CBD cream and a CBD Sports Cream.
Each bottle of Joy Organics cream contains 250 mg to 400 mg of CBD. You can relieve pains and aches quickly by applying the creams topically. The company claims that its CBD creams are excellent for nourishing dry and cracked skin and reinvigorating joints and muscles.
Joy Organics CBD Sports Cream is ideal for post-workout muscle recovery.  It penetrates deep into the skin to work on stiff joints.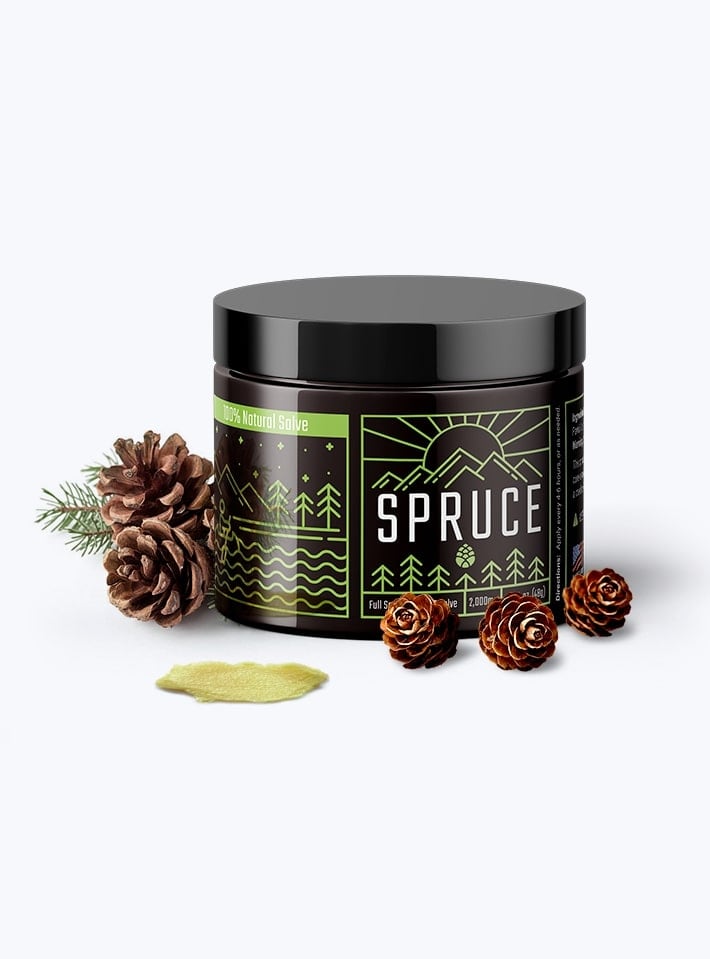 5. Spruce Full-Spectrum Topical CBD Salve
If you're looking for a powerful, full-spectrum CBD cream for pain, look no farther than Spruce Full-Spectrum Topical CBD Salve. Spruce has complete control over its CBD manufacturing process to ensure premium quality products, from hemp plant cultivation to the sale of the final product.
The company's hemp products are especially effective in alleviating joint and muscle pain. Their full-spectrum topical CBD salve is also great for back pain. An 0.87-ounce jar contains 1000 mg of CBD, while a 1.7-ounce jar gives you 2000 mg of CBD. The salve is infused with botanicals like beeswax, shea butter, and olive oil.
6.     Cornbread Hemp CBD Lotion + Menthol
This lotion from Cornbread is another potent full-spectrum CBD product for pain relief. Its composition includes a special hemp flower extract without the leaves, stems, and stalks, ensuring the highest level of CBD purity and potency.
This USDA-organic CBD lotion contains menthol, eucalyptus, and lemongrass for a natural cooling sensation. It is also paraben-free and preservative-free. A two-ounce bottle contains 500 mg of CBD.
7.     cbdMD Recover CBD Cream
cbdMD is one of the most trusted brands in the hemp-based product's market, thanks to its top-quality hemp extracts and commitment to forward-thinking technology. If you need fast relief from inflammation, consider using its Recover CBD cream.
Depending on your desired dosage, you'll get 300 mg to 3,000 mg of CBD from a tub of Recover. According to cbdMD, this cream will help ease mild pains and temporary discomfort while keeping your skin hydrated.
The pain-combating ingredients are great for post-workout muscle recovery, general pains and aches, and other complications that cause soreness and discomfort. Besides containing less than 0.3% THC, Recover CBD cream also has essential oils and shea butter.
8.     R+R Medicinals CBD Cream
If you're looking for the best CBD cream for sensitive skin, look no further. While it's a powerful pain reliever, R+R Medicinals CBD Cream is gentle on the skin. It doesn't contain any eucalyptus, menthols, fragrances, or dyes, making it ideal for use on sensitive skin.
This formula contains healthy, organic components such as MSM, jojoba, and Calendula Flower. Additionally, it has at least 4 mg of secondary cannabinoids such as CBC, CBD, CBN, and THC in every quarter-sized portion for effective relief.  A 2.5-ounce tube of R+R Medicinals CBD Cream contains 1000 mg of full-spectrum CBD.
9.     Penguin CBD Cream
Penguin CBD is one of the top-rated premium CBD brands, known for 100% THC-free, GMO-free, American-grown CBD products. Its CBD cream is among the best options on the market, boasting a smooth but rich texture and offering great value for your money. Applied topically, the Peppermint Lavender cream offers a soothing and relaxing feel while leaving a subtle tingle.
10.CBDFx Muscle and Joint Cream
CBDFx is another market leader in the premium CBD space, known for its competitive prices. The Muscle and Joint Cream offers fast relief for joint pain and muscle aches. This cooling formula contains white willow bark, menthol, caffeine, and CBD.
While the menthol's cooling sensation ensures lasting pain relief, caffeine and white willow bark are proven, natural methods for easing pains and aches. A bottle of this cream will give you 500 mg to 3,000 mg of CBD to satisfy your specific needs.
If you are looking for the best CBD cream for pain, you can choose from this list, depending on your needs and budget. For more premium CBD products, please contact Saha Self-Care at 1 (800) 558-8508 or email the company at support@sahaselfcare.com.