Cannabidiol, also known as CBD, is a compound derived from the cannabis plant but has no psychoactive effects whatsoever. It does, however, boast notable anti-inflammatory and antioxidant properties that make it a prime ingredient in many of today's skincare treatments and products.
If you're looking to blow up your glow-up with the aid of CBD skin care, you ought to stick around as we're about to shed light on the best CBD skin care products available today.
How to Choose the Right CBD Skin Care Product
With so many effective CBD skin care products on the market, pinpointing the right product for your needs can be quite overwhelming. That said, make sure to keep the following factors into consideration if you wish to ensure the most bang for your buck. 
Check the Label
When in the market for CBD skincare treatments, you must keep in mind that not all the products you'll come across actually contain CBD. In fact, some products utilize hemp seed oil instead of CBD and claim to be able to achieve the same results CBD can achieve.
Speaking of hemp oil, it's a highly effective ingredient in a lot of skin care treatments. It's derived from the seeds of the hemp plant, not the plant itself. At the end of the day, though, hemp seed oil is completely free of CBD, so it's not what you're looking for.
As you're checking the product's label, make sure it doesn't contain ingredients that you don't want on your skin, be it contaminants, pesticides, or others. 
Product Quality
Before making a purchase, you need to check the quality of the CBD content in the skin care product you're looking to buy. To be more specific, you need to know the source of the CBD content in the product. Further, you need to make sure that it's a pure form of CBD.
Bear in mind that not all CBD beauty products have this information listed on their label, so you may have to get in touch with the manufacturer's customer service representatives to inquire about the information you're looking to find out before you make a purchase. 
Independent Lab Testing
CBD products that have been put to the test by independent third-party labs should be at the top of your list when in the market for CBD creams, oils, or any other skin care products that contain CBD.
Independent lab testing ensures that the product is both safe and effective. If the product you're looking to buy isn't tested by a third-party laboratory, we recommend avoiding it. 
Benefits of CBD for the Skin
CBD is a potent antioxidant that flaunts anti-inflammatory properties. While research into the benefits of CBD skin care is still in progress, here are some of the benefits we know thus far:
Anti-Inflammatory Benefits
With the aid of its anti-inflammatory properties, the CBD in skin care treatments may be able to alleviate redness, pain, swelling, and irritation. It can also manage skin issues such as psoriasis and eczema. 
Promotes Skin Hydration
If you have dry, dehydrated skin, skin care products that contain hemp CBD oil or other pure CBD variants may help keep your skin hydrated, according to a 2009 study. 
Regulates Oil Production
CBD's anti-inflammatory properties may have a positive effect on sebocytes, which are the skin cells that help produce sebum (skin oil), according to a 2014 study. It's worth noting that the overproduction of skin oil is one of the most notable factors related to the emergence of acne.
How to Use CBD Skin care Products
CBD skincare treatments are available in different forms, including serum, cleanser, spray, sleeping mask, and moisturizer. Depending on which form you have, application requirements will vary. Ideally, you should follow the directions highlighted on the product's label.
If you use various skin care treatments that contain CBD, you want to keep application at a minimum, as too much of anything, including CBD, can irritate your skin. This is especially the case if you have sensitive skin. 
Top 5 CBD Skin care Products in 2021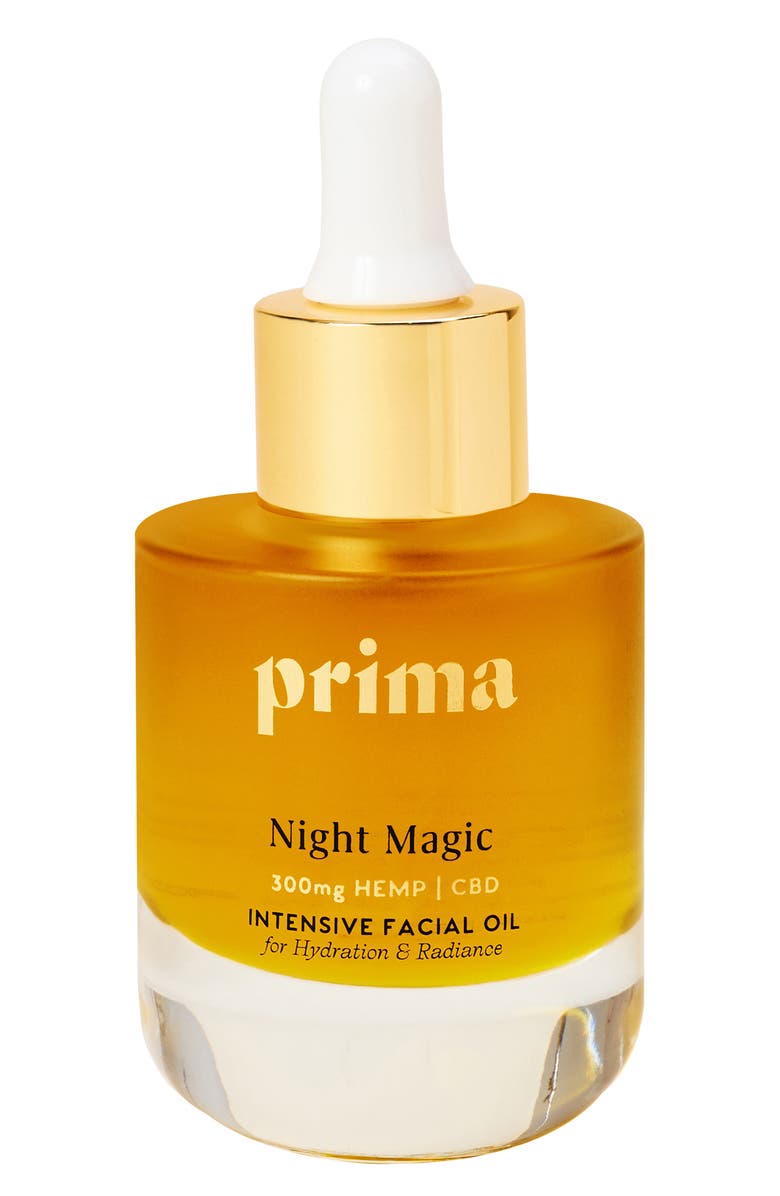 Prima Night Magic 300mg CBD Intensive Face Oil 
Prima's Night Magic is a clinically proven face oil that helps reduce fine lines and improve skin radiance with the aid of a specialized blend of hemp CBD and nutrient-rich botanicals. This brand is truly a pioneer in CBD skin care and it shows.
The botanical oils used in the making of this oil include Moringa, Kukui, Prickly Pear, and Rose Hip. The blend also includes Vitamins E and K, natural fatty acids, polysterols, phytosterols, and, of course, cannabinoids. The hemp CBD in this blend is around 300mg.
This CBD-intensive oil blend is carefully formulated with no mineral oils, silicones, parabens, fragrances, phthalates, and PEGs, so it's 100% safe and effective.
To use this face oil, all you have to do is clean your face and neck, then massage 4-5 drops into them. You can use the oil alone or you can use it for layering. The manufacturer recommends using the oil nightly to ensure the best results. Also, make sure to use it on damp skin to lock in the moisture. 
Naturally G4U Be Well CBD Calm & Relieve Creme Mask
With a rich, powerful blend of several effective ingredients, the Naturally G4U Be Well CBD Crème Mask promises your skin the relief and vibrancy it needs.  
The crème boasts remarkable anti-inflammatory properties that will help rapidly soothe your irritated skin. It's an excellent skin care crème for acne-prone people.
The crème is certified, vegan, gluten-free, and entirely plant-based. Its key ingredients include raw cannabis sativa seed oil, aloe barbadensis leaf juice, emulsifying wax, cocos nucifera, THC-free cannabidiol, grape seed oil, and spirulina extract.  
Before applying this crème, make sure your skin is thoroughly washed and cleaned. Apply the crème, leave it for about 20 minutes, then wash it off using warm water.
Ideally, you should apply this crème 2-3 times a week. If you seek intensive treatment, try applying the crème to your skin before showering. Then, leave it on as you're while in the shower, as steam can help with its dispersion. 
Farmacy Better Daze Ahead CBD Moisturizer
There's so much that the Farmacy Better Daze Ahead Moisturizer can offer, from rich hydration to stress-fighting adaptogens. Its powerful formula bears your skin nothing but fruits.
To achieve its rich hydrating effect without making your skin feel greasy or heavy, this moisturizer uses hemp seed oil, as well as essential omega-6 and omega-3 acids.
The moisturizer also offers anti-inflammatory benefits that will help soothe your skin and reduce redness. The full-spectrum CBD skin care oil used in the making of this moisturizer is non-psychoactive.
Environmental stress is taken care of with the inclusion of adaptogens such as reishi mushroom, holy basil, and purple ginseng. They help ensure balanced, wrinkle-free skin.
This full-spectrum CBD moisturizer is completely free of pesticides and is sourced from licensed Colorado-based hemp farms, so rest assured that it's safe and highly effective.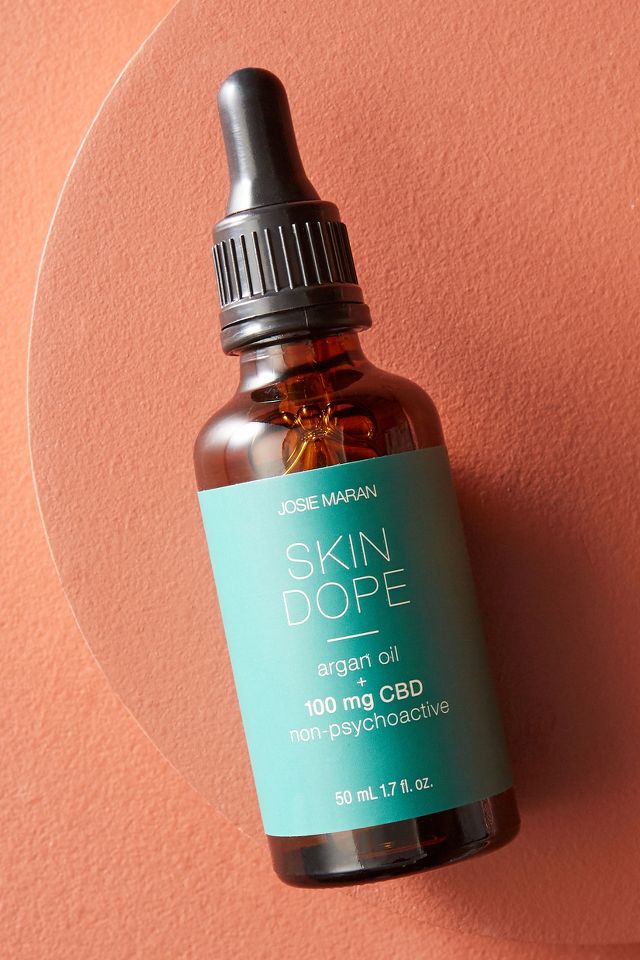 Josie Maran Skin Dope Argan Oil + 100 mg CBD Oil
Josie Maran's Skin Dope is a plant-powered oil that does an outstanding job of relieving fatigued skin. If you have sensitive skin, this product should be at the top of your list. It's perfect for normal, dry, and oily skin.
The oil contains full-spectrum CBD as well as other non-psychoactive compounds that are derived from the hemp plant. The formula, as a whole, contains less than 0.3% THC, so you don't have to worry about it having any psychoactive effects.
The pure argan oil used in making this product contains plenty of essential fatty acids, Vitamin E, and antioxidants, which all serve to nourish and protect the skin.
The Josie Maran Skin Drop oil is completely vegan and cruelty-free. Further, it's gluten-free and works well with pretty much all skin types. Truly an excellent CBD skin care product.
Herbivore Emerald CBD + Adaptogens Deep Moisture Glow Oil
Herbivore Emerald CBD is yet another soothing face oil that's packed with adaptogens that help with redness, dryness, uneven texture, and dullness.
The formulation of this oil is pretty lightweight compared to other alternatives, so you don't have to worry about a greasy, heavy look.
This oil's formula is composed of full-spectrum cannabis oil, cannabis sativa seed oil, and ashwagandha. The latter is a herb that enables the skin to deal with environmental stress influencers like UV rays, pollution, and lack of sleep.
Other ingredients this oil contains include squalane, limnanthes alba, capric triglyceride, sunflower seed oil, vitamin E, borago officinalis, and more.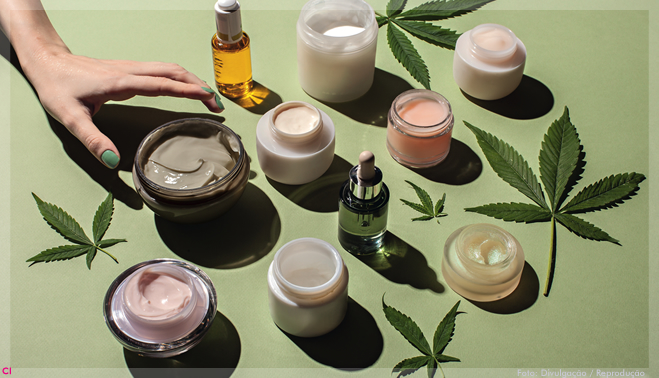 Final Thoughts
There you have it; the five best CBD skin care products on the market today. Whether you have normal, sensitive, dry, or oily skin, one of the above-mentioned products will surely meet your needs and will help alleviate any fatigue or stress tainting the texture and youthfulness of your skin.